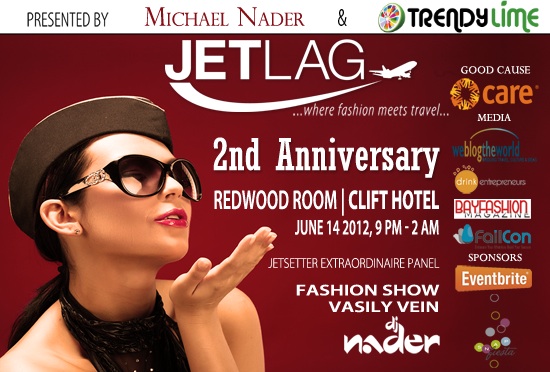 June 12, 2012 – JETLAG in association with Trendy Lime Productions is celebrating it's second anniversary with an event on Thursday, June 14th!
JETLAG and Trendy Lime throw upscale parties for the glamorous trendy international crowd. You WANT to be there!
I was graciously invited by Liana Burtsava to the pre-party for supporters and media last week which was a first class ticket all the way! Pictures from the event at Art People are here.
The JETLAG Festival event will feature a stunning fashion show by Russian designer, Vasily Vein, and his beautiful entourage of international models.
Mingle with other glamorous professionals and global trendsetters in the historic and stunning Redwood Room of the Clift Hotel.
Come photo ready with your closest friends and strike some sexy (or silly) poses for SnapFiesta's vibrant, open-set photobooth.
Early Bird Tickets are $20 – part of proceeds will be donated to CARE.org benefiting their "Help Her Learn" Campaign.
The "Help Her Learn" Campaign benefits underprivileged girls. "101 million children around the world are out of school.* The majority of these young people are girls. A lack of education not only limits their ability to control their own lives, but also make positive contributions to the lives of others."
Tickets are available through Eventbrite here.
To join the Trendy Lime crowd and be invited to future events, sign up on their website: http://trendylime.com/. Also, "Like" their Facebook page here: https://www.facebook.com/trendylime.